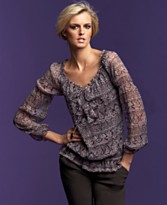 New jeans and tops - perlu kuruskan badan dulu. (seriously i don't have byk baju ok..mmg skit je). Mase nak keluar gi memana mmg ambik masa la..rase boring je tgk aku punya wardrobe...byk baju yang beli mcm makcik2 aje..hey i'm still young ok!!! Tops yang dibeli selalunya tak sesuai dipakai..mmg tak reti berfesyen aku nih!!
New kain for next year school session -Untuk naikkan semangat sebab selalunya bila dah cuti panjang mmg malas je nak mula sibuk balik!! Nak balik klate leh memborong nih!!
New handbag and shoes - my bag mmg burukss ok..sbb saya tak suka tukar h/bag..beli satu pakai sampai lunyai..samela kasut/sandle pun. Saya tak de beg hitam but i don't like any black shoes or bag!! Bila nak gi beli mesti target mesti beli kaler hitam but at last sure beli kaler putih/beige/cream or soft caramel. Kasut pun tak suka yang bertutup penuh. Tutup depan je..senang nak sarung. Kasut/sandal tinggi ? Tak suka..nnt sakit tumit dan belakang w/pun i know i'm kategori pend...let's say tak berapa tinggi la..haha!
Bedak MAC - sebab nak habis dah le.....apalagi? Bukan byk duit nak suka2 beli!

Tudung for casual - tak de kaler hijau, turquiose, merah and indigo..of course MORTADA saiz kecil jadik pilihan

Organizer -Ohh..ini tak yah beli kot..abang ada free tak?Jgn lupa bawak balik kat saya!!

Dah tu aje setakat ni!!Beli barang perlu ukur badan sendiri dan ikut kemampuan..ye tak?Hmm..Sabtu ni nak ke Jalan TAR lah. Ahad nak beli brg buat masak2 skit utk raya.
ADA SATU KEINGINAN!!!! Abang..saya teringinla nak makan dekat Koryowon @ KLCC..gara2 tgk cerita korea!!!! And it's HALAL!!!